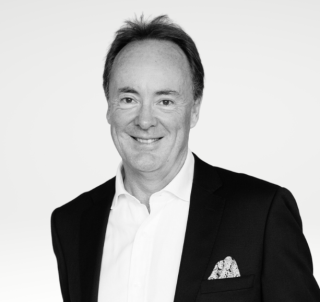 Mark Manners Partner
Mark Manners has been assisting clients across Mosman and the North Shore in their real estate journey for the past 16 years and in that time, he has achieved some of the area's highest sales, including a number of suburb, street, and building records. In both 2018 and 2019, he frequently held the No. 1 position for highest average sales price in Mosman. In 2018, Mark was No.2 agent for highest average sale price in NSW. All of Mark's vendors give him a 5 star review.
A consummate professional with an impressive track record of achievements, Mark Manners combines 20 years of business management experience with six years of consistent record sales to his role with Simeon Partners. Having been director of client service and head of marketing strategy for a number of leading Australian and International advertising agencies. Mark brings a unique and highly disciplined set of sales strategies and skills to the world of real estate which has seen him achieve extraordinary sales results for his clients. Adhering to the highest levels of honesty, integrity and understanding, Mark has a highly ethical approach to all his business dealings. Matched with a drive to achieve outstanding results and to exceed clients' expectations at every possible level, this is a powerful combination that has seen Mark set numerous street records and achieve many of the area's highest sale prices.
His reputation, expertise, client relationships, and exceptional results have engendered intense customer loyalty with clients choosing Mark to personally handle the sale of their property. With intimate local knowledge and an educated and reliable understanding of the market, he communicates openly with all his clients and matches the right buyers with the right property to ensure a stress-free experience.
Educated at Rugby School in England and a keen classic car enthusiast and racer, Mark is highly competitive and places great value on persistence and achievement.
Contact Mark Manners

Dear Mark, We would just like to thank you for all your help, patience, and advice in assisting us to sell our family home in Mosman. You stayed the distance and achieved everything we hoped for, including a new street record! We would have no hesitation in recommending Mark if you are looking for an outstanding result. Thanks again.
10 Lower Boyle Street, Mosman (May 2021) - Vendors, ZJ & YZ
As a person living away from the city and very unfamiliar with the process of selling a high-rise apartment, I have relied heavily on Mark for advice and guidance with the sale of our family property. From our first meeting, it was clear that he was very well prepared with his marketing and sales strategy and was able to share and guide us through this procedure. The result being a successful sale of our property for a new building record. Mark, I really do appreciate your hard work especially the final negotiations with the interested parties. I can't believe it all began on Saturday, at the open house, and by Tuesday it was finished! I am quite confident that any property that Mark should represent will be handled professionally with a minimum of stress to all parties and with a great outcome.
PENTHOUSE 2803/83-85 Spring Street, Bondi Junction (March 2021) - Vendor, Helen Irish
Dear Mark, Masako and I would like to thank you so much for all your advice, support and assistance in relation to the sale of our home. You have been a great support and even a friend in the way you have worked with us over the past year. From your advice on the original plans, your continual support through the build and your professionalism and dedication to the strategy, planning and ultimately generating the sale, we have had a great partnership through the entire process. Mark is one of the most incredibly professional, hardworking and totally trustworthy agents I have come across and I have no hesitation in recommending him to anyone who wants the best experience and outcome. Thank you again, to you and your team.
13 Euryalus Street, Mosman (October 2020) - Vendors, Ken & Masako
I can't thank Mark enough for his efforts in the sale of my family home in Roseville Chase. Mark was always available, flexible with his schedule, kept me up to date on the progress of the sale, and helped me manage the entire process from beginning to end all while I was living interstate. Mark made it as smooth a process as possible, handling all the details and suppliers when I was unable to attend the property. I would wholeheartedly recommend Mark and his team and would not hesitate to work with them again. Much appreciation for all your efforts Mark.
58 Malga Avenue, Roseville Chase (August 2020) - Vendors, J. M.
Trish and I would like to thank to Mark for acting for us in the sale of our property at Kirribilli. We found the exercise which normally would be stressful surprisingly easy. At our first meeting, Mark provided sound advice as to target market, price range and marketing strategy all of which proved to be accurate. This was particularly important as the decision to sell was made during a period where the media was focusing on the pandemic, a massive drop in consumer confidence and a difficult economic outlook. That initial meeting provided us with complete confidence in achieving the outcome we sought in a market where we would otherwise have had serious concern. During the short and directed marketing period leading up to the auction we were kept informed at regular briefings and felt completely comfortable and satisfied with the outcome. Thanks again to the teams' professionalism, dedication, and honesty. It was a pleasure dealing with Mark and we would have no hesitation in recommending you to other Vendors.
28 Fitzroy Street, Kirribilli (August 2020) - Vendors, Clive and Trish
During the sale of our property, Mark's professionalism, dedication and diligence was second to none. His expertise and determination enabled us to achieve an excellent result for our property amidst challenging market conditions. In particular, we would like to acknowledge his tireless and proactive efforts negotiating with potential buyers and seamless communication throughout the entire process. It was an absolute pleasure working with Mark and we would recommend him without reserve to any potential vendor.
11 Rickard Avenue, Mosman (May 2019) - Vendors, John & Shelly
Dear Mark and Richard, we would sincerely like to thank you both for selling our property. Your professionalism, dedication and drive was clearly evident throughout the whole journey. Despite the challenging market you still managed to achieve the expected asking price. This confirms your work ethic and determination. The best decision we made was listing our property with Simeon Partners. We would highly recommend all vendors and purchasers to work with you both.
40 Euryalus Street, Mosman (March 2019) - Vendors, Theresa & Mark Zaarour
We had not even been contemplating a sale of this property which was bought back in 2012. However, a call "out of the blue" from Mark Manners started off a process which culminated in a sale being agreed. No fuss, just sheer professionalism from Mark at all times in guiding us from the "not interested in selling" camp to exchanging contracts to sell this property. All off-market, no need for any campaigns of any sort and made all the easier for us by knowing that Mark was working tirelessly behind the scenes getting for us, and at the same time advising us that this was, the best result in the circumstances. Could not have been done any better. Thanks again Mark.
24 Inkerman Street, Mosman (June 2019) - Vendors, RM & SM
Mark Manners sold my parents' house and we found him to be an exceptional agent. His warm friendly and caring personality was much appreciated. He spent as much time needed explaining any questions we had and constantly kept us updated on progress during the selling campaign. He went well beyond what we expected from an agent and we have absolutely no hesitation recommending him.
29 Willis Road, Castle Cove (January 2019) - Vendors RM, BM & MM
Dear Mark and Richard, thank you for your kind note regarding the sale of our beautiful home. Thank you for staying the distance and for your professionalism and tenacity throughout the lengthy campaign. Although our price expectations were not achieved, you did get us the best possible result. Congratulations to you both and to your team. Prosit. Best wishes for continued success.
38 Bay Street, Mosman (August 2018) - Lee & Dee Cassar
Thank you Mark for a professional sale and sales process. It is stressful enough selling your home even without difficult negotiation and Mark was able to keep the process highly professional. The negotiation was at times very stressful but Mark remained calm, professional, and considered throughout. He went the extra mile when it was needed and was always available. I would highly recommend the team at Simeon Partners but especially Mark. Thank you.
24 Redan Street, Mosman (July 2018) - Vendor DJ
As a house purchaser, my wife and I were very appreciative of Mark Manners and his team in their continuous clear communication and assistance throughout the purchase process. We found the people and the company to be the most professional we have worked with. We wish them well throughout the coming selling season.
12 Methuen Avenue, Mosman (June 2018) - Vendors, David & Fiona B
I would definitely recommend Mark and the Simeon Partners team. We have used other agents in the past for both purchase and sale but this was the first time we felt the agent knew the market, the target buyers and current market conditions in detail. Mark was very helpful with a methodical end to end process that definitely showed his expertise in Mosman real estate. Mark and his team were responsive, friendly and above all professional. Thanks again to Mark and Simeon Partners.
16 Noble Street, Mosman (May 2018) - SC & BC
Mark was outstanding in every way when it came to our sale. Right from the time we first met to discuss the sale, he, along with Richard Simeon gave us absolutely first class service. They also gave us full attention to all the details required to get a property of this size ready for a sale as well as giving us a realistic guide as to the value of the house. They knew how important it is to get a sales campaign right before it starts. During the sales campaign, Mark worked tirelessly to get as many potential buyers to come and visit the house. Saturdays, Sundays, any day Mark was available to talk both with us and also to bring potential buyers through the property. Mark also suggested some great leads on advertising the house to ensure maximum exposure. All of that worked perfectly for us. We would thoroughly recommend both Mark and Richard to any potential seller and to engage Simeon Partners to get the best results.
36a Bay Street, Mosman (April 2018) - R. Marshall
Thank you to Mark and Richard for achieving a good result for us. We need our property would take time to sell which was difficult brief for an agent but Mark's tireless patience never ceased, so thank you again for your persistence and enthusiasm. The sale also went to another great family so the 'fit' for finding the right purchaser was exceptional.
33 Shellbank Avenue, Mosman (February 2018) - Vendors, Paul & Allison Fleming
We took proposals from 5 other agencies and talked with several others and Simeon Partners was clearly a cut above. Your insight and assessment of the market, the overall marketing and sales strategy and attention to detail was outstanding. You questioned us, listened to us and challenged us, respectfully and professionally and as a result I felt we were always on the same page and we were "one" team. The constant communication and feedback, the daily calls and the weekly face to face meeting helped us confirm the strategy was working and helped to alleviate the stress associated with selling one's home. Nothing slipped thru the cracks, you guys followed everything up that you said you would, from help sourcing tradies to the massive bunch of orchids Scott turned up with.. And I think importantly you helped make the process fun, the photo shoots, the styling, and chasing around after contracts, etc. We could not have imagined a better outcome, you just don't get a result like this with a "weak link in the chain" !!!! Of course at the end of the day it comes down to people, thank you so much, you guys are outstanding. I wish we had another house to sell !!!!
24 Milray Avenue, Wollstonecraft (September 2017) - Vendors, Peter & Suzy
Dear Mark and Richard, We wanted to express our sincere appreciation for all your efforts and guidance in achieving a successful sale of our harbourside property in Beauty Point. Mark and Richard were confident and unwavering in setting a price range and set about running a cost effective and targeted sales campaign which generated solid interest among a select number of qualified buyers. They then worked very closely and diligently with those interested parties, finally giving the successful purchaser the confidence and encouragement, through careful negotiation, that saw them meet our price expectations and conclude a sale. As anyone who has been through the process knows, selling one's home can be very stressful. Both Mark and Richard were very calm, measured and professional giving sound advice throughout the campaign. In the final negotiations it helped knowing we were in the hands of very experienced operators whose judgement we trusted. We would have no hesitation in recommending Simeon Partners to other Vendors.
5 Carrington Avenue, Mosman (June 2017) - S & M C
"Selling your home is such a stressful event and for us, not one we have done often. We were very impressed with the professional approach from Simeon Partners, who came highly recommended. A recommendation very well justified. We had a tight timeline and Mark was unfailingly calm and efficient and made a huge effort in negotiating successfully on your behalf. Both Mark and Richard gave us good advice on how to present our house and Rod and his team were amazing in undertaking repairs and styling in super quick time. Thank you Mark, Richard and all of your team. You did a great job and we definitely recommend your caring agency for professional and expert service."
2 Little Street, Mosman (March 2017) - Vendors Anne & Harvey Green
We recently engaged the services of Mark Manners of Simeon Partners to sell our family home. In all of our dealings with Mark, we felt he had our best interests at heart. His understanding of our needs, his consistent communication between ourselves and our potential buyers were a true reflection of a collaborative approach to business. Mark identified the perfect buyer for our property from the start and we were delighted to get such a good result before we even launched on the market! It was a truly positive experience and I would recommend Mark to anyone looking to achieve a great result with the minimum of fuss.
18 Bapaume Road, Mosman (December 2016) - Vendors, S & M McInnes
A very big thank you from my wife and I for all your work, time, and effort in assisting Mum achieve such a great outcome on Saturday. You and your team's wonderful focus on ensuring Mum was kept up to date at all times, and your team's natural and genuine friendly and caring manner is both rare and greatly appreciated.
43 Glover Street, Mosman (September 2016) - Vendor, David
Mark, thank you to you for the excellent result achieved on the sale of our home in Cremorne Point. Your approach to selling our home was honest and direct – the fact that we sold within two weeks of listing is testament to the hard work and dedication of you and your deep knowledge of comparable sales and the value of our property. We are delighted with the outcome and we wouldn't hesitate to use you and your team again and recommend you and Simeon Partners to prospective clients.
17 Glenferrie Street, Mosman (July 2016) - Vendors, AR & BR
Dear Mark, both my sister and I are delighted with the outcome you achieved for the sale of our family home in Mosman. Selling our parent's home, the one we grew up in, was always going to be an emotional journey for us and your professional approach made a huge difference. Right from the outset it was refreshing to deal with someone who was understanding, considered and totally honest. I especially appreciated your open and direct dialogue with me as you deftly guided us through the process and skillfully navigated the inevitable "to and fro" in any sale of this kind. I found your insights and depth of knowledge invaluable. It is also not often that you gain from an adviser both the "art and science" of a deal and the way you steered all interested parties and our ourselves towards a win-win for all was excellent. Taking the extra steps in finalising the sale, coupled with the high attention to detail and service levels made the whole process hassle free and alleviated all the stress that goes with selling the family home. We cannot recommend you highly enough.
90 Bay Street, Mosman (July 2016) - Vendor T.M
Entrusting the sale of our substantial property to Mark Manners of Simeon Partners was a decision that we are very thankful to have made. At no stage during the sale of our house did we feel that we were dealing with a 'real-estate agent', it was clear from beginning to end that Mark is a sales and marketing professional committed to exceeding the expectations of his clients. This was an extremely refreshing approach after a disappointing and fruitless campaign on the property with a local franchise agency only a few months earlier. Mark, Richard, and the entire Simeon Partners team were exceptional and very easy to deal with. The communication was great, and we were kept fully informed. Their commitment, professionalism, and strategic points of difference in a crowded agency market was reflected in the results – our house was sold in 4 weeks at a price that we were very happy to achieve. The boutique style of Simeon Partners combined with the experienced depth of their team, Mark in particular, will ensure that they will not only be our first call when we are next selling a house, but our first recommendation to anyone else looking to sell theirs.
19 Parriwi Road, Mosman (April 2016) - Vendors J & T V-M
The moment we met Mark Manners, we thought he would be the right person for our property. Even though Mark is a director of his company, he was heading our campaign from beginning till the end, handling every open, enquiry, report, negotiation etc. Mark conducts himself extremely professionally and he engages well with people and I find this creates a situation whereby potential buyers become more comfortable in expressing themselves to him enabling him to have more insight into their thoughts and needs. At every open for inspection, Mark and his sales associate, Michelle (his trump card!) displayed our house magnificently. Mark is not just a great agent, he is also a very lovely person whom we have got to know during our campaign. Our house sold in the second week, prior to Auction, which the whole family was relieved about and were most delighted! We have since recommended Mark Manners to a couple of our friends in Mosman. Thank you very much Mark and Michelle for your undivided attention to our property and for achieving all of our brief.
2 Pindari Avenue, Mosman (August 2015) - Vendors B & T Wong